Young people and parliamentarians unite on global health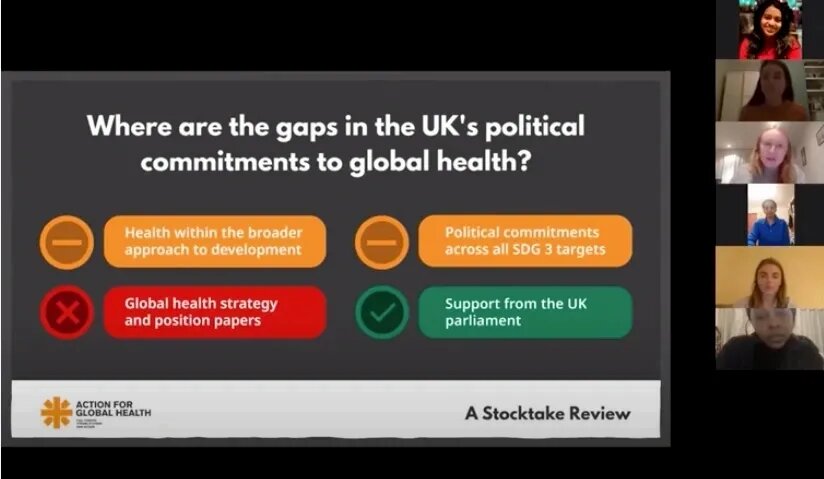 Webinar, October 29th,  2020 – Together with Students for Global Health, Action for Global Health recently united young people and parliamentarians for an interactive webinar on the findings from A Stocktake Review: Strengthening the UK's Commitments to Global Health.
Parliamentary speakers included Lord Crisp (independent crossbench member of the House of Lords and co-chair for the All-Party Parliamentary Group on Global Health) and Preet Gill (Labour & Co-op MP for Birmingham Edgbaston and Shadow International Development Secretary).  Chaitra Dinesh, National Director of Students for Global Health, moderated the event and Katie Husselby, Coordinator of Action for Global Health presented key insights from the report. Rhiannon Osborne, policy and advocacy director at Students for Global Health, also highlighted the need to look at the wider determinants of health, such as trade, international advocacy and climate change.
The virtual event, Where Next? Spotlight on the UK's role in Global Health, took place in collaboration between the two networks as an opportunity to engage young people on the UK's role in addressing the global public health challenges of our times and ensuring equitable access to affordable, quality and inclusive healthcare for all.
From sexual and reproductive health and rights, to tackling the growing threat of anti-microbial resistance, the UK has played a key role in ground-breaking achievements for global health. At the same time, Action for Global Health's Stocktake Review reveals how commitment to global health has been declining.
"As the second-largest government donor to global health, the UK is a hugely important and critical player in ensuring healthy lives worldwide. However, findings from our report show a mixed picture with the underfunding of vital areas including health systems, health workers and universal health coverage." said Katie Husselby.
The implications of these findings were discussed in the context of the COVID-19 pandemic, which is exacerbating existing inequalities and weaknesses in countries' health systems and impacting their ability to deliver the full spectrum of health services.
"During COVID19, we have seen how for too many people, the right to health is far from realised." said Preet Gill MP. "Healthcare for all is a vital step to create a better, safer, fairer world and it is on all of us to make sure this remains high up on the UK's agenda."
Most recently, following cuts to UK Official Development Assistance (ODA), health systems globally were not prioritised in the division of funds, with the Covid-19 response the sole health priority named. Action for Global Health is advocating for the UK to adopt key recommendations from the Stocktake Review that see the pandemic response integrated as part of a long-term vision for global health.
"The biggest influence will be getting busy policy-makers to see things for themselves." Lord Crisp said. "Politicians are humans too and they will learn from what they can visualise and experience of health challenges and sustainable solutions."
"The role of young advocates in influencing the Government to proactively tackle these shortfalls will be critical as we work to build a healthier world for current and future generations. We welcome opportunities for a dialogue with decision-makers.", said Chaitra Dinesh.
Watch the full webinar recording here.