Twitter Chat highlights: "Busting myths about malaria"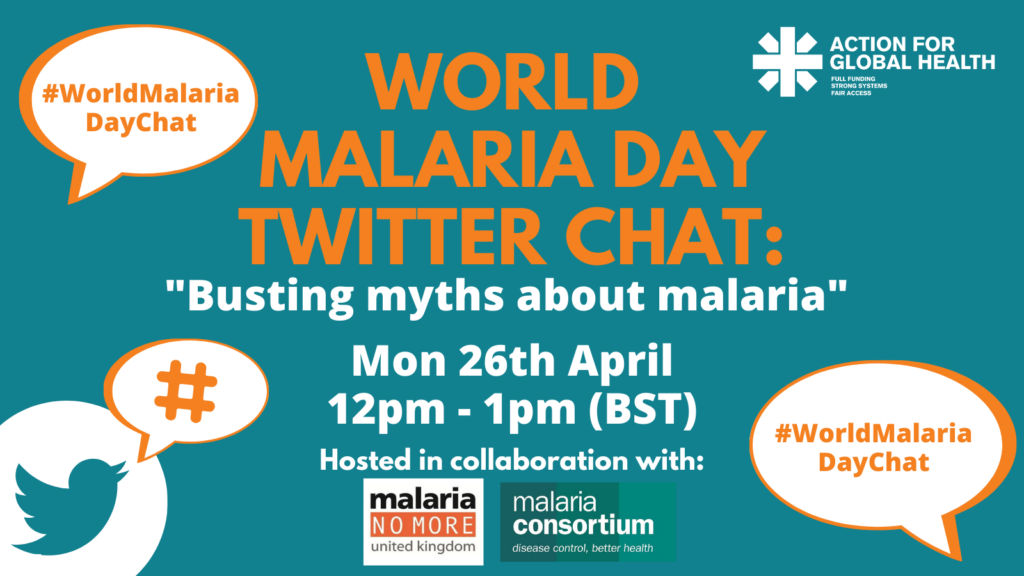 Over the last 20 years there has been enormous progress made in the fight against malaria. 
In 2020, the World Health Organization (WHO) detailed in their World Malaria Report that 7.6 million lives have been saved since 2000 and 1.5 billion cases averted.  
Twenty-one countries have eliminated malaria over the last two decades and, of these, 10 countries were officially certified by The WHO as malaria-free. Countries of the Greater Mekong continue to make major gains, with a staggering 97% reduction in cases of one strain of malaria seen since 2000.  
However, according to The WHO, 400,000 people still die of the disease every year with mostly babies and young children being afflicted in sub-Saharan Africa.
There is still a great deal that is still misunderstood about malaria. As such, to mark World Malaria Day 2021, Action for Global Health alongside charity partners Malaria No More and Malaria Consortium organised a Twitter Chat to dispel some of the common myths about malaria.
Here's what we found out.
Myth #1: Risks of 

malaria

 are the same for everyone everywhere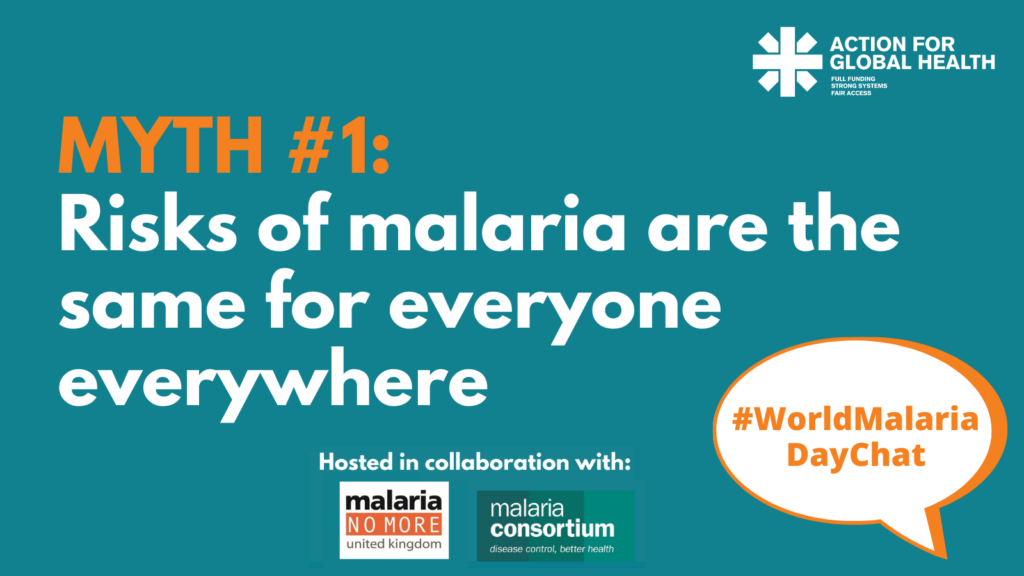 The malaria risk is not the same for everyone, everywhere.
The WHO African Region carries a disproportionately high share of the global malaria burden. In 2019, the region was home to 94% of malaria cases and 94% of malaria deaths. In 2019/2020, Five countries accounted for more than half of all malaria cases worldwide.
Children under 5 years old are most vulnerable to malaria because their immune systems are not fully developed and have not developed a level of resistance to the disease.
Pregnant women are also vulnerable, with studies showing that they are twice as attractive to mosquitoes than non-pregnant women due to increased body temperature and carbon dioxide emissions.
Climate also plays a large role in malaria transmission; the majority of malaria cases worldwide occur in Africa and regions with a tropical climate and is most prevalent during rainy seasons. 
Myth #2:

Being infected once makes you immune forever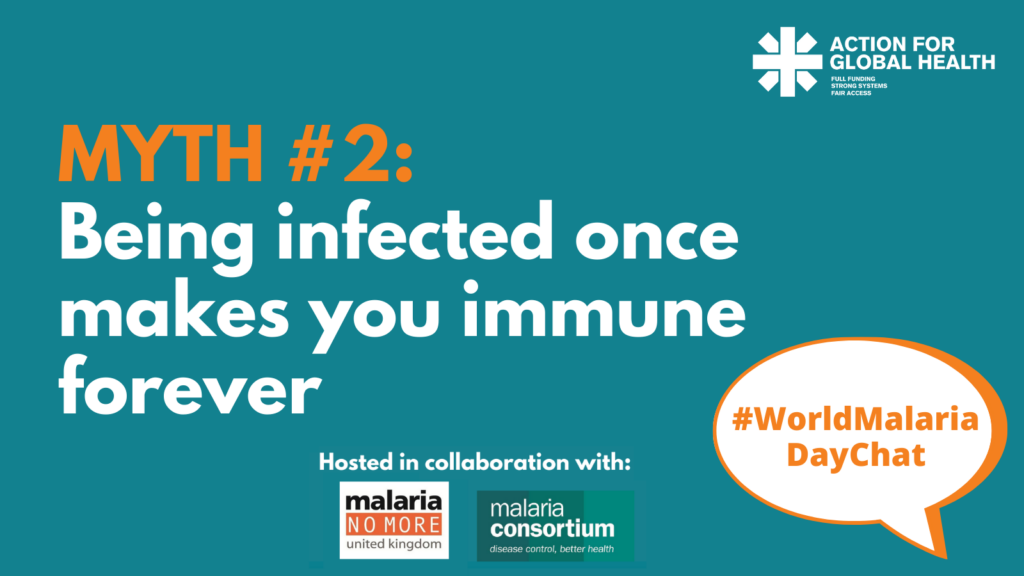 People exposed to malaria often develop a degree of resistance to the parasite but this doesn't prevent a person being infected. If you are not exposed to the parasite for an extended period, this resistance can be lost.
Travellers are particularly susceptible, as they often come from non-malarious regions and haven't developed immunity.
Recurring malaria is the most common type of malaria outside sub-Saharan Africa. Children can be particularly at risk, getting several bouts of malaria from a single bite, missing a lot of schooling and getting weaker each time they get the disease.
Infected people can also act as unwitting reservoirs of the disease as when the parasite reawakens in their bodies a mosquito can carry that parasite on to someone else.
Myth #3: Malaria isn't fatal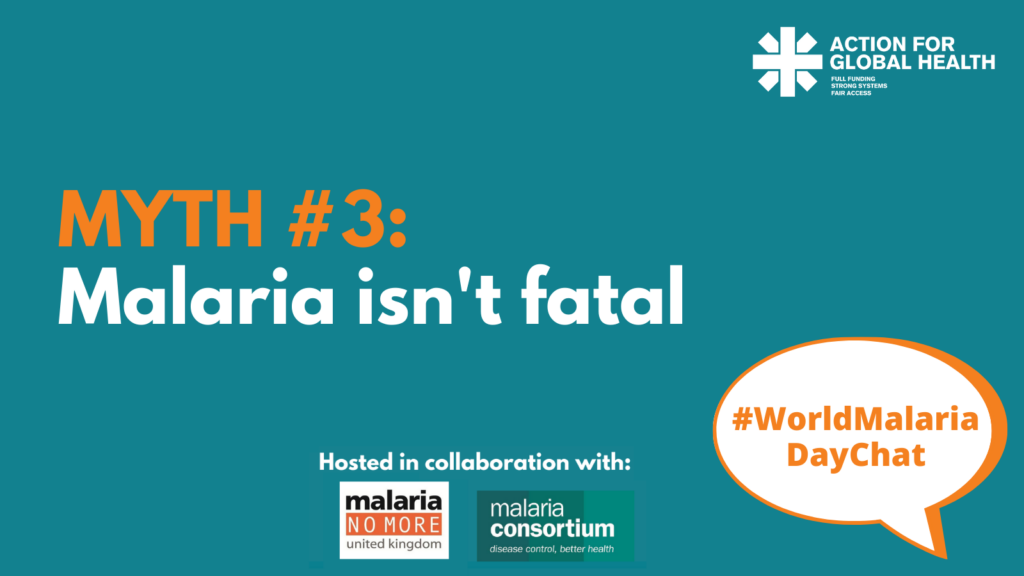 Malaria is absolutely deadly. In 2019, there were an estimated 229 million cases of malaria worldwide with the estimated number of malaria deaths standing at 409,000 in 2019. On average, malaria kills over 1,000 people every day.
Most malaria illness and deaths in the Sahel and sub-Sahel regions of sub-Saharan Africa occur during the rainy season. Seasonal malaria chemoprevention (SMC) intervention is intended to provide chemoprophylactic protection against malaria to at-risk populations during this period of high transmission. It's also a cost-effective and life-saving intervention.
In 2020, Malaria Consortium supported SMC in Burkina Faso, Chad, Nigeria, and Togo, covering a target population of 12,568,449 children 3–59 months. The program achieved a high coverage across all cycles and countries.
If detected early, malaria is more easily treated with access to antimalarial drugs. However, it can kill. Early diagnosis is key.
Myth #4: There must be a vaccine for malaria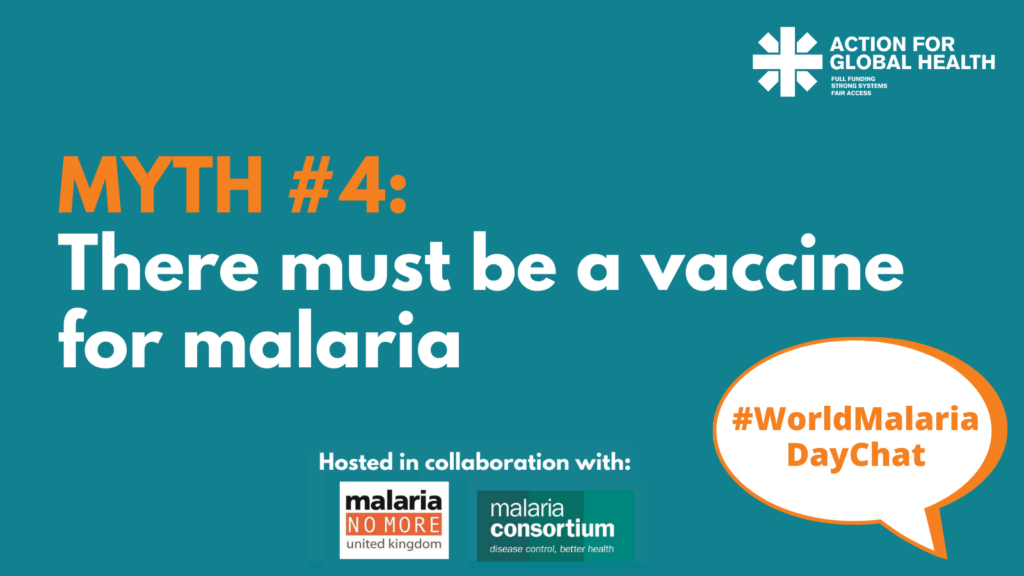 There is currently no WHO-approved vaccine for malaria. There are several vaccine candidates in development globally, including R21 in development at the Oxford University Jenner Institute, and RTSS, by GSK which is currently being piloted across Africa.
However, an effective, commercially viable vaccine against malaria is still underway. Such a vaccine could complement the existing package of preventive, diagnostic and treatment tools being used to reduce the global malaria burden.
Myth #5: Covid-19 doesn't have an impact on malaria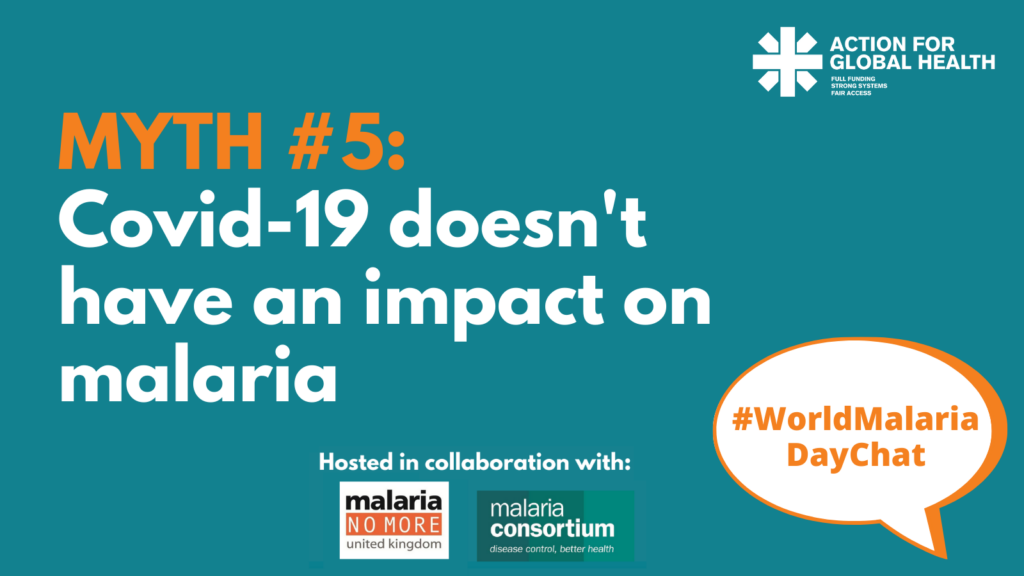 More than one year into the pandemic, substantial disruptions to health services persist across the globe. According to a WHO survey, approximately a third of countries worldwide reported disruptions in malaria prevention, diagnosis and treatment during the first quarter of 2021.
COVID-19 has disrupted and continues to impact global supply chains worldwide. Procurement of drugs and other commodities for malaria campaigns have been disrupted and encountered delays.
It has also had an effect on people's health seeking behaviours, with evidence that suggests fewer people are attending health facilities for suspected malaria infections.
In South Sudan, COVID-19 threatened to disrupt long-lasting insecticidal net provision and essential services, prompting a review of its global distribution methodology. In 2020, Malaria Consortium implemented adaptations and amplified their community engagement activities in response. 
Myth #6: UK Aid cuts won't affect the fight against malaria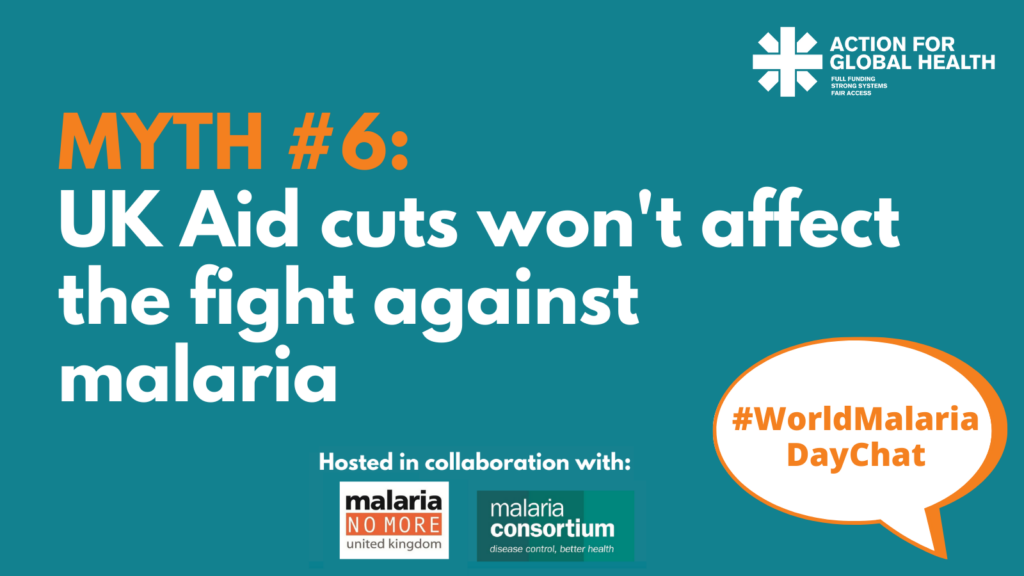 Funding from the UK Government and other donors are used to implement interventions to improve the diagnosis, treatment and prevention of malaria. But also improve health outcomes – helping to support these countries to increase the resilience of their health systems.
Funding cuts could force interventions to end prematurely, meaning the efforts to strengthen health systems will be badly disrupted and the gains that have been achieved will be lost as a result.
In the UK, many research and development projects face risks to progress form spending cuts. 
One project at London School of Hygiene & Tropical Medicine investigates antimalarial drug resistance, an issue currently on the World Health Organization's emerging threats map. These funding cuts could put the UK's position as a global scientific superpower at risk.
Myth #7: The G7 Summit has no relevance to tackling malaria or improving global health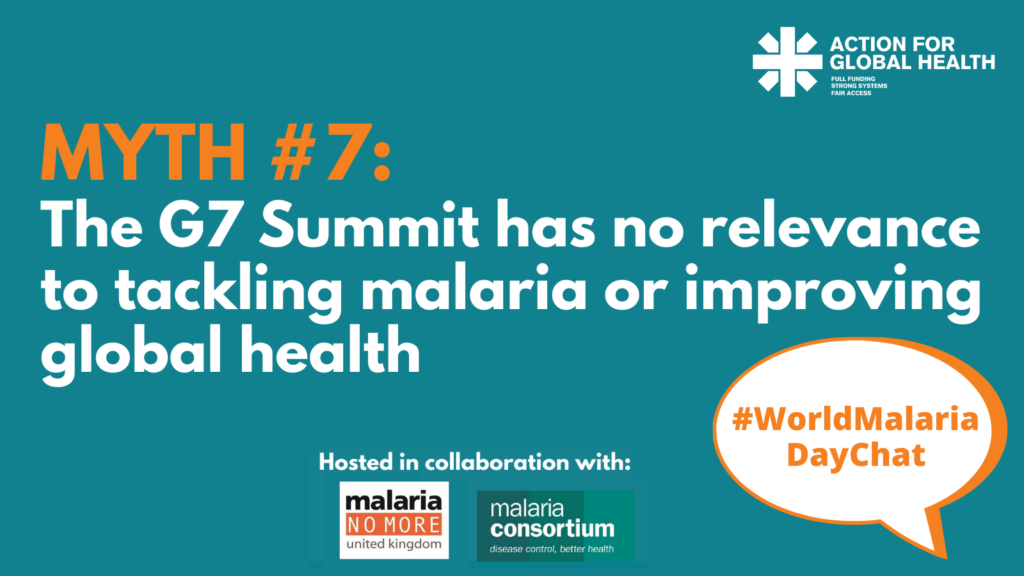 COVID-19 has shone a light on global health inequality. The G7 have promised to 'build back better', and a global response is needed for future risks to health security. Robust health systems are able to handle preventable illnesses like malaria, and prepare for future pandemics.
Global health will be high on the agenda at the G7 summit in June. It will provide an opportunity for the global community to showcase commitment to tackling global health issues such as pandemic preparedness and health systems strengthening.
What you can do to help
Prime Minister Boris Johnson has said he is using the UK's G7 Presidency to unite leading democracies to help the world build back better from coronavirus and create a healthier world. So, let's ensure he does just that.  
Take action today by signing and sending this letter to your MP to ensure that health for all is prioritised at this year's G7 Summit. 
By raising the profile of this issue, we will show the UK's continued commitment to creating a healthier, safer world, through standing in solidarity with other countries, at a time when it matters the most. 
We have the power to end malaria in a generation if we focus our efforts – let's make it our generation. 
For more information on malaria and the work being done to fight against it, visit the websites of our two World Malaria Day Chat co-hosts, Malaria No More and Malaria Consortium.