Action for Global Health premiere NEW Healthy Futures campaign video at their #WorldHealthDay Film Festival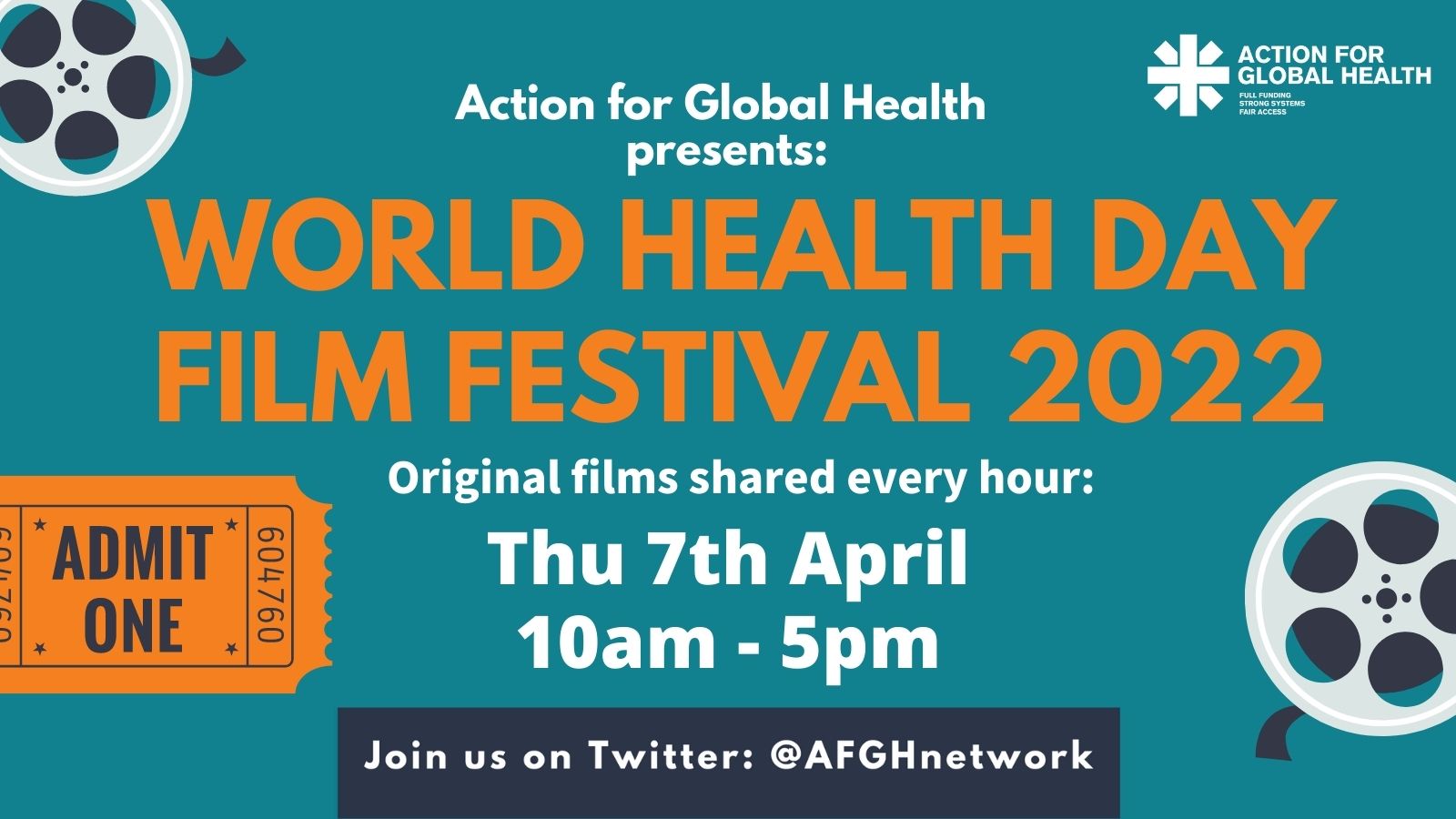 To celebrate #WorldHealthDay this year, Action for Global Health organised an online film festival to highlight the incredible work that our members are doing to help build a fairer, healthier world for everyone, everywhere.
Every hour we shared original films produced by our inspiring members which are included in this blog post and features the premiere of our brand new Healthy Futures campaign video.  
FILM PREMIERE: "What do Healthy Futures mean to you?
Healthy Futures is a UK movement coordinated and run by Action for Global Health.
We believe that no matter who we are or where we live, we all deserve the right to good health. Whether it's having accessing to essential health care, seeing a doctor when you have concerns or getting your COVID-19 vaccine – everyone has the fundamental human right to a 'Healthy Future'.
Through Healthy Futures, we hope to unite campaigners, just like you, to call on the UK Government to achieve our goal of health for all.
Join our movement and be part of making Healthy Futures for all a reality: https://healthyfutures.uk/.
Film #1: "Virtual delegation impact of COVID on TB"
In 2020, ACTION Global Health Advocacy Partnership in collaboration with Results Canada, KANCO, McGill University and our charity partners Results UK, conducted a study on the impacts of COVID-19 on Tuberculosis (TB) programming in Kenya. Here are the shocking statistics they found.
Film #2: "A people's vaccine"
It's been two years since COVID-19 was declared a pandemic and billions have still not had their first vaccine. In this brand new film, our charity partners STOPAIDS, Oxfam, Results UK and Health Poverty Action as well as ActionAid UK, Global Justice UK and People's Vaccine are fighting for equitable vaccine access.
Film #3: "Transforming primary healthcare to help save lives"
Learn how Primary Care International
are transforming healthcare systems by building up skills in the primary health care workforce. Their ambition is to reach 25,000 healthcare workers globally by 2025, covering a total population of seven million people, strengthening the effectiveness and impact of primary healthcare throughout low- and middle-income countries and for the most vulnerable groups such as refugees.
Film #4: "SCI Foundation: celebrating our 20th anniversary"
Congratulations to our charity partners, SCI Foundation
who are celebrating their 20th anniversary!
In their latest film they look back over their journey and ahead to the goal of improving h
ealth equity
through disease elimination.
Film #5: "In global eye health crisis, everyone counts"
Our charity partners
Sightsavers
are urgently appealing to ensure that everyone, everywhere can access the eye health services they need – as those diagnosed with blindness could triple to around 115 million people by 2050 if action isn't taken.
Film #6: "PRISM series – stories of impact: Childhood drowning – stopping a silent epidemic"
In their latest film project, 'The PRISM Series', The George Institute
share life changing stories impacting our global health
. In this film they discuss stopping the silent epidemic of the childhood drowning.
Film #7: "Filling health care gaps – the crucial role of community-based primary health care"
In Malaria Consortium's film, they demonstrate the crucial role iCCM plays in helping us to reach universal health coverage and the Sustainable Development Goals – a collection of 17 interlinked global goals designed to be a "blueprint to achieve a better and more sustainable future for all" set up in 2015 by the United Nations General Assembly.
Film #8: "Margaret's voice – patient power"
The Worldwide Hospice Palliative Care Alliance (WHPCA) share Margaret's harrowing story as she struggled to get treatment for a condition that stopped her eating and talking. Now she is cared for and her family are also supported.
Her voice may be weak, but her message is powerful. A extraordinary example of how palliative care makes a difference.
Film #9: "Spotlight on schistosomiasis during #
WorldHealthDay
"
Health is a human right, yet many people remain untreated as some diseases like schistosomiasis are not prioritised despite their impact. Learn how The SCI Foundation
works with governments in sub-Saharan Africa on its prevention and treatment.
Film #10: "Now I can see again, I can make money to support my family"
Sightsavers
share the story of grandfather Sardar from Pakistan who faced an uncertain future being able to provide for his family after developing cataracts.
Film #11: "

PRISM series – stories of impact: Transforming treatments, saving lives"

In their latest film project, 'The PRISM Series' The George Institute share life changing stories impacting g

lobal health

. In this film they discuss the transforming treatments that are saving lives.
Film #12: "Strengthening Uganda's response to malaria"
Learn how 
Malaria Consortium
in partnership with UNICEF are
supporting the Ministry of Health to implement a project funded by UK Aid in 25 districts in mid-northern Uganda, to support efforts to reduce malaria-related morbidity and mortality. The Strengthening Uganda's Response to Malaria (SURMa) project will be implemented in eight districts in Acholi, nine in Lango, and eight in Karamoja.
Film #13: "A message from Jharna, a woman living with cancer in Bangladesh"
Film #14: "

Thank you for your donations to our Ukraine Appeal"

Dan Stewart, Head of News at Save Children UK thanks supporters as the Save the Children teams in Romania provide emergency supplies to refugees from Ukraine in the freezing weather.

If you would like to donate please click here.